"Striho continues to share her brilliance, effortlessly moving from bluesy and jazzy to belted out rock & roll. Her latest release, Afterthought, showcases all of these styles, along with a few more that might surprise people. The musical poetry is undeniably Striho however, and she manages to pull everything together with the ease of a seasoned pro and the flair of a master illusionist. She makes her own creative path and people can't help but follow where she leads." — Stacey Sherman, RSP Entertainment,Music Journalist, Digital First Media & Metro Times, November, 2016
 Detroit December 2018. At the holidays, we miss so many who have passed away. It can be really hard. We want to thank Donne in Musica and Patricia Adkins Chiti for all our shows and tours in Italy. We were honored to perform in Rome, Frascati and Fiuggi in 2006, 2011 and  2014 with Donne in Musica. P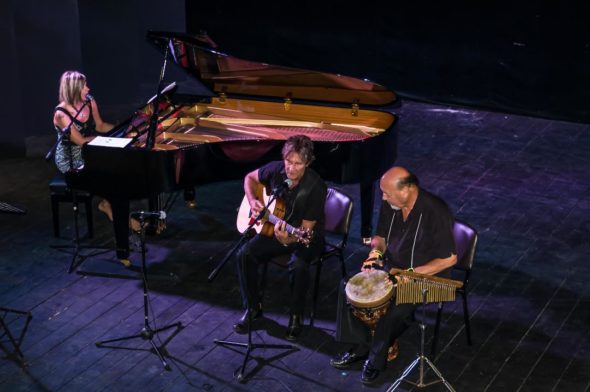 atricia was a huge proponent of women's music, women's rights and woman musicianship th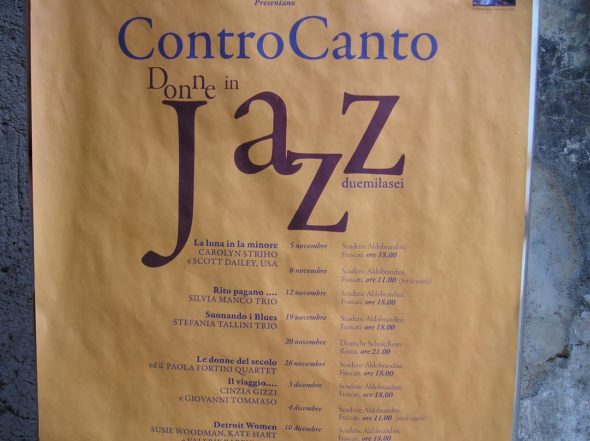 roughout Italy and Europe and a great artist. Donne in Musica is  a cultural Italian and European music foundation of which we were really honored to be a part of – they are continuing on the work. Patricia and I last talked early this year, and I'm sad to hear she has passed away. We had bella times with the Frascati white wine  and song, and over in Fiuggi at the spas and enjoyed the time in the mountains between shows – and in Rome, too. The food, as you guessed, was out of the world delicious, and they're known for the meats hanging in the windows. We were on the delicious pasta mainly, and mushrooms and wine and what a beautiful stage every time, where we performed and were cheered on by beautiful crowds and by Patricia and the outstanding organization, Donne In Musica. Also, on request, I sang "The Song of Fiuggi" in Italian on one of the shows. The crazy rides to and from the airport in Italian traffic is a great memory, as are the standing ovations. Thank you, grazie, for everything. http://composeralliance.org/in-memoriam-patricia-adkins-chiti/

This December, I'm back on the air with two Ferndale Radio DJ Shifts coming up Sunday, Dec. 16th from 1 to 3 pm and Saturday Dec. 22 from 5 to 7 pm – tune in if you're in the Ferndale, Michigan area to 100.7 FM, broadcasting live from the festive and vintage Rustbelt Market. With a mix of songs from punk to reggae, to classical, jazz, soul, funk and some surprises, including local music, I'm excited.

This year has been a fast one. With much airplay for our previous catalogue and recent album "Afterthought," I've begun checking out my new songs and recording for a new album with Scott Dailey. We're not rushing this one, and the first song which is getting closer, "14 Miles of Bad Road," is the beginning of a new adventure. Sounds cliche, but it really is. The times are running fast, and the songs are taking on new personalities and changes as we're finishing up several more.

But back to the recap of the year – So it was such a good time in January as  I was in New York City for the RoundGlass Music Awards, which were fantastic. There were so many great performers, including Grammy winners Ricky Kej and Wouter Kellerman. My sister and I were at The Edison Ballroom party in Manhattan and throughout Greenwich Village, where I used to be quite a bit. Memories of so much there to be included in the book.  And Grammy Weekend 2018 was great in Manhattan. We were honored to be on the Grammy Awards First Ballot 2018 for Best Rock Album for "Afterthought."
In February, we were back with Detroit Unplugged at Ferndale, Michigan's Otus Supply with Barbara Payton, Mary McGuire and myself, and Scott Dailey and Ron Wolf – what a great night at Valentine's week at Otus Supply.

In March, the Detroit Music Awards called for us to perform at The Music Stand Detroit at a DMA Acoustic Showcase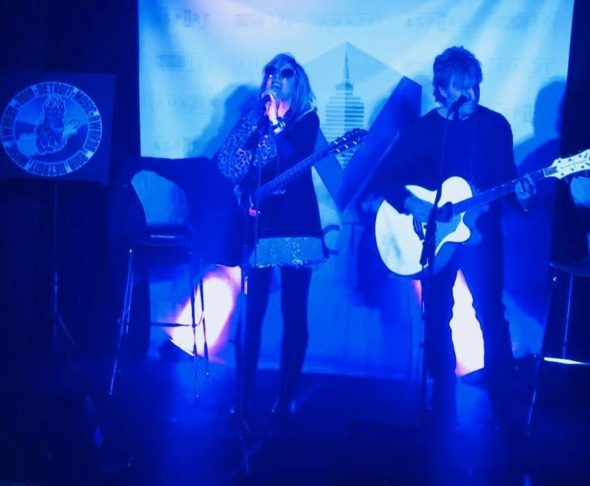 with many great artists – a good time. And I was nominated for Outstanding Rock Vocalist at The Detroit Music Awards – it was another great time in May at The Fillmore Detroit.
And in May, I also met with a publisher for working on my book in Detroit. It's a big undertaking to be writing a book, and with new poetry and lyrics, some of the memoir is getting closer.

We also performed at PJ's Lager House in May, which was a cool Memorial Day Weekend in Corktown, Detroit. Then moving to June, Scott Dailey and I were invited to perform at Detroit Music Weekend, where the beautiful Aretha Franklin had performed on the main stage the year before. It was pretty wild hearing The Jackson Five over on the stage as we walked out from our show…great times outdoors at Music Hall Detroit. Aretha passed away in August, and it was an emotional time for everybody here in Detroit. We will miss you, Aretha.

In July, the new film by Chicagoan Mary Sommers was brought to Detroit "Tough Luck: Detroit Stories" premiered at Cinema Detroit and also screened in Chicago. Featuring our song "Honesty" and interviews with playwrights, writers, artists, activists and musicians, including myself, it was a great opening.
In July, we were invited to perform back in the U.K. and it was a stellar trip! An honor always to be asked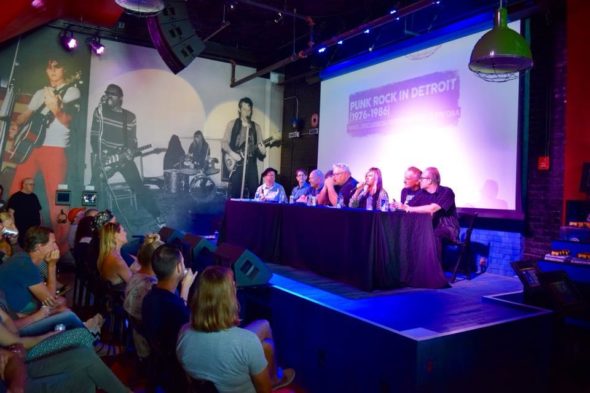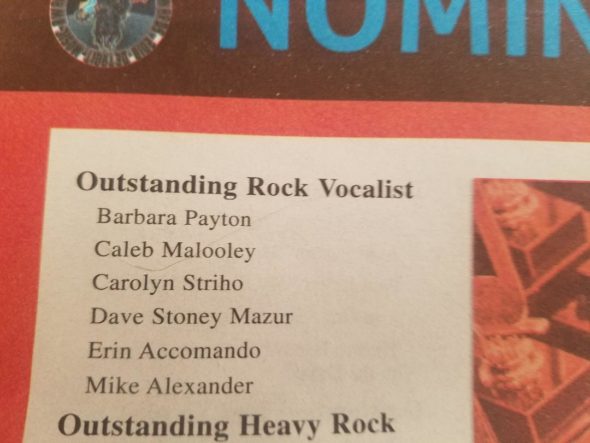 to perform in Europe, Scott and I performed in the U.K., where we had played before, but this time new venues! We were at Isle of Wight's Rhythm Tree Festival in July and also in London, and at Hope and Anchor, the legendary punk rock bar in Islington, London where The Police got their start! Amazing shows  – and we had good times onstage for our shows and off. We may be back in the U.K. performing next summer and are also looking at New York City and over in Eastern Europe.

Coming back to Detroit, we just missed our favorite, The Concert of Colors this year, but we had a great show with Detroit Unplugged's Midsummer Night's Dream at 20 Front Street with the fabulous Barbara Payton and Mary McGuire again. A sold out night at 20 Front Street -thank you.
In August, I was on the Cranbrook Art Museum and Third Man Records Detroit's Punk Rock Panel with Robert St. Mary – an honor to be at Third Man, with my previous (vintage again) music possibly being re-released on Third Man Records' compilation album next year.
August brought us to performances at the new Motor City Muscle Festival in downtown Detroit at the Spirit of Detroit Stage, and then a return to a fresh Arts, Beats & Eats show with guest violinist Leslie DeShazor – an eclectic Saturday in Royal Oak, Michigan.

In September, I also performed at the State Fair Michigan Mega Jam with Nadir Omowale, The Gasoline Gypsies, Laura Rain and so many more Detroit artists. It was so hot and the carnival was in full  swing! With Three Chord Bourbon sponsoring our shows there, it was a goodbye to summer State Fair day in Michigan. It was also the start of a new school year and radio DJ shifts at Ferndale Radio at The Rustbelt Market. My students went on great field trips this year with me, including the Detroit Auto Show, Little Caesar's Arena, the Detroit Zoo and MCTI near Kalamazoo, Michigan.
In November, I performed at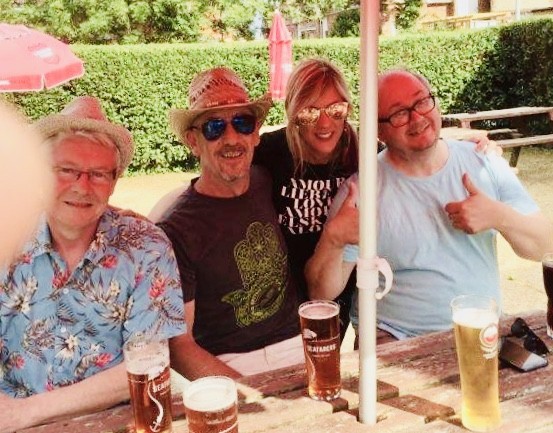 20 Front Street again for their  2nd Anniversary  show with Mary McGuire, Abigail Stouffer, Nick Piunti, and Jeremy Kittel, among others.

I'm also honored to be included on the WHFR FM Radio's Vinyl Detroit Compilation Release with my song "Ocean" and then a new album/EP vinyl being released by my ex-husband Freddie Brooks for Orchide Records, featuring Patti Smith on "Reach Out" vocals – it's a beautiful EP coming soon. Orchide Records with Mack Aborn Rhythmic Arts did the original re-release of Fred Sonic Smith's "City Slang" and CD/Vinyl of "Sweet Nothing." Stellar music here!

More music news, shows and recording shortly, and a Merry Christmas and Happiest New Year. Please take care of your health – and each other.

"Love the colour of your heartfelt voice, lovely intro on 'Cornered Room' great song! 'Let It Go' another favourite of mine, nice rapping, and love the gypsy feel on 'Russian Inn' beautiful violinist. Stunning album, love it"
Wouter Kellerman
Striho continues to share her brilliance, effortlessly moving from bluesy and jazzy to belted out rock & roll. Her latest release, Afterthought, showcases all of these styles, along with a few more that might surprise people. The musical poetry is undeniably Striho however, and she manages to pull everything together with the ease of a seasoned pro and the flair of a master illusionist. She makes her own creative path and people can't help but follow where she leads…
Stacey Sherman
A lifelong Detroiter, Carolyn was the lead singer/songwriter and keyboardist of the early art/punk/jazz era combos the Cubes and Rough Cut. She then fronted her all-star ensemble Detroit Energy Asylum before embarking on a wide-ranging solo career in which she's explored rock, pop, folk, jazz, punk rock, cabaret and alternative music. The delightful difficulty people have in pigeonholing Striho was underscored in one of Carolyn's Detroit Music Award trophies in 2010, a startling victory for her techno remix of "Promised Land" from her Outstanding CD of the Year in Rock/Pop, "Honesty."
Ben Edmonds
"Carolyn is a poetic songwriter who plays piano (sometimes with the heel of her boot) and acoustic guitar (with her fingers) while singing in a style that might be jazzy, bluesy, torch-y, fiery or any combination of the above…strutting and growling and singing a version of "Downtown" that would have made Petula Clark feel like tourist, she's worth tracking down!"
Neal Rubin
"Carolyn Striho is a singer/songwriter with a vibrant voice, passion and energy. Carolyn's a very respected Detroit songwriter and amazing live performer. She's been on tour and in the studio with Patti Smith, Steve Earle, Luis Resto (Eminem) and David McMurray (Johnny Hallyday/Kid Rock). She's a truly exciting artist!"
GoGirls Music
"Afterthought moves through a host of musical moods, from the moodier, darker vibe of the opening title track to exotic gypsy-rock feel of "Russian Inn" to the lively, driving sound of "Love Won't Stay Close" which you can hear exclusively for now in this Freep First Spin debut." 
Brian McCollum
Regarded as one of the city's best singer/songwriters, Carolyn Striho made her name fronting the dynamic Detroit Energy Asylum and her work with Patti Smith. And in the last couple dozen years as a solo performer, Carolyn has gained a strong reputation for charismatic, high-energy stage performances with her songs, vocals, guitar and keyboards. Wildly original, melodic and passionate, Striho's music has been described as being written from the silver edge of midnight.